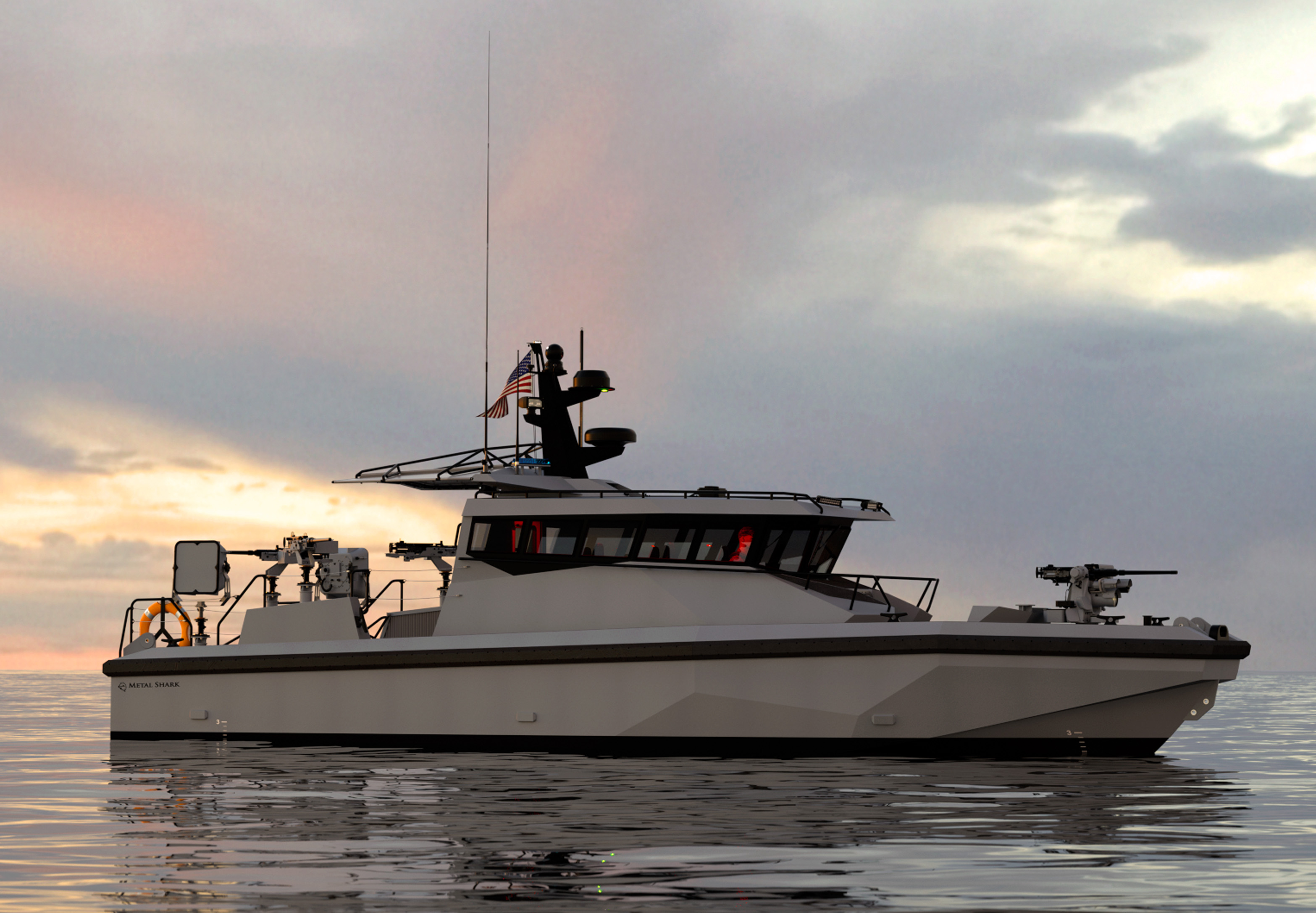 October 2, 2017: Metal Shark Wins U.S. Navy PB(X) Patrol Boat Contract
Jeanerette, LA – October 2, 2017: Louisiana-based shipbuilder Metal Shark has been awarded the contract to produce the U.S. Navy's next-generation patrol boat, the PB(X).
This award is the culmination of a multi-year process by the Navy to select the replacement for the fleet of force protection boats currently in use with Navy Expeditionary Combat Command's Coastal Riverine Forces (CRF). Subject to annual appropriations, the Navy intends to replace approximately 100 to 160 of its existing 25-foot and 34-foot CRF patrol boats with the larger and more modern PB(X) platform over the next fifteen years.
The Navy has placed an initial, immediate order for eleven of the new vessels. Under the terms of the award, potentially worth over $90 million, Metal Shark will build up to 50 PB(X) vessels for the Navy, along with trailers, spares and training packages, and technical support.
"PB(X) was one of the most challenging and most sought-after U.S. military boat procurement opportunities in recent history; the result of a years-long process pitting Metal Shark's engineering and manufacturing capabilities against multiple leading U.S. naval architect firms and nearly all of our competitors," said Metal Shark's CEO Chris Allard. "The award of PB(X) to Metal Shark is the result of a tremendous team effort and I couldn't be more proud of our people."
The winning PB(X) design is the Metal Shark 40 Defiant, a 40-foot, welded-aluminum pilothouse patrol boat designed by Metal Shark's in-house engineering team. Leveraging its extensive experience with military patrol craft of similar size, Metal Shark designed a bespoke craft ideally suited to accommodate all mission parameters.
Immediately identifiable thanks to its chiseled, angular profile and a unique faceted hull, the PB(X) is powered by twin diesel inboards and water jets. Metal Shark designed a moderate aft deadrise, wide-waterplane, sharp-entry hull form that not only achieves 35+ knot sprint speeds while displaying superb dynamic stability in a range of conditions, but also offers enhanced handling and greatly reduced operating cost at the 10-15 knot escort and cruise speeds where the vessel will spend the bulk of its operational life. The PB(X) features ballistic protection and can be armed with a range of crew-served and remotely operated weapons systems.
In order to fully optimize the hull and propose a more mature design, Metal Shark built a PBX running prototype hull, designated PB(X)-P1, which was extensively tested in a wide range of operating conditions. This test platform became the basis for Metal Shark's resistance, powering, and weight testing, and determined the final configuration proposed to the Navy.
"The testing of PB(X)-P1 validated our design choices, mitigated our areas of concern, and resulted in a design proven to perform exactly as expected under real-world loads and conditions," explained Mr. Allard. "We made this up-front investment to eliminate any and all potential concerns and to deliver a thoroughly tested and proven, next-generation patrol boat platform to the U.S. Navy."
The PB(X) will be built at Metal Shark's Jeanerette, Louisiana production facility, which specializes in the rapid, serialized assembly of military patrol boats. Other significant military fleet builds currently underway at the facility include ongoing production of the Navy's 32' Force Protection Boat – Medium (FPB-M) and 26' High Speed Maneuverable Surface Target (HSMST), and the U.S. Coast Guard's 29' Response Boat – Small (RBS).
This is the second major U.S. Navy contract awarded to Metal Shark in 2017. In June, Metal Shark was selected to build up to thirteen Near Coastal Patrol Vessels (NCPVs), for the Navy. These 85' patrol boats are being produced at Metal Shark's Franklin, Louisiana waterfront shipyard.
"Winning PB(X) is a crowning achievement for us, but there's a lot of work ahead," said Mr. Allard. "The Navy is a long-standing customer we're extremely familiar with and whose needs we understand intimately. We are eager and ready to commence PB(X) production and to begin supplying the world's greatest Navy with the world's most advanced patrol boat."
Established in 1986, Gravois Aluminum Boats LLC, and its government/commercial boat entity Metal Shark Boats are leading suppliers of custom boats for defense, law enforcement, and commercial entities. Key customers include the United States Coast Guard, Navy, Air Force, Army, foreign militaries, law enforcement agencies, passenger vessel operators, pilot associations, fire departments, and other operators worldwide. Under the direction of its owner/operator Allard and Gravois families, Metal Shark has produced over 500 vessels in the past three years at its two fully self-contained South Louisiana production facilities. Metal Shark produces a wide range of custom monohull and catamaran vessels up to 250'. www.metalsharkboats.com.