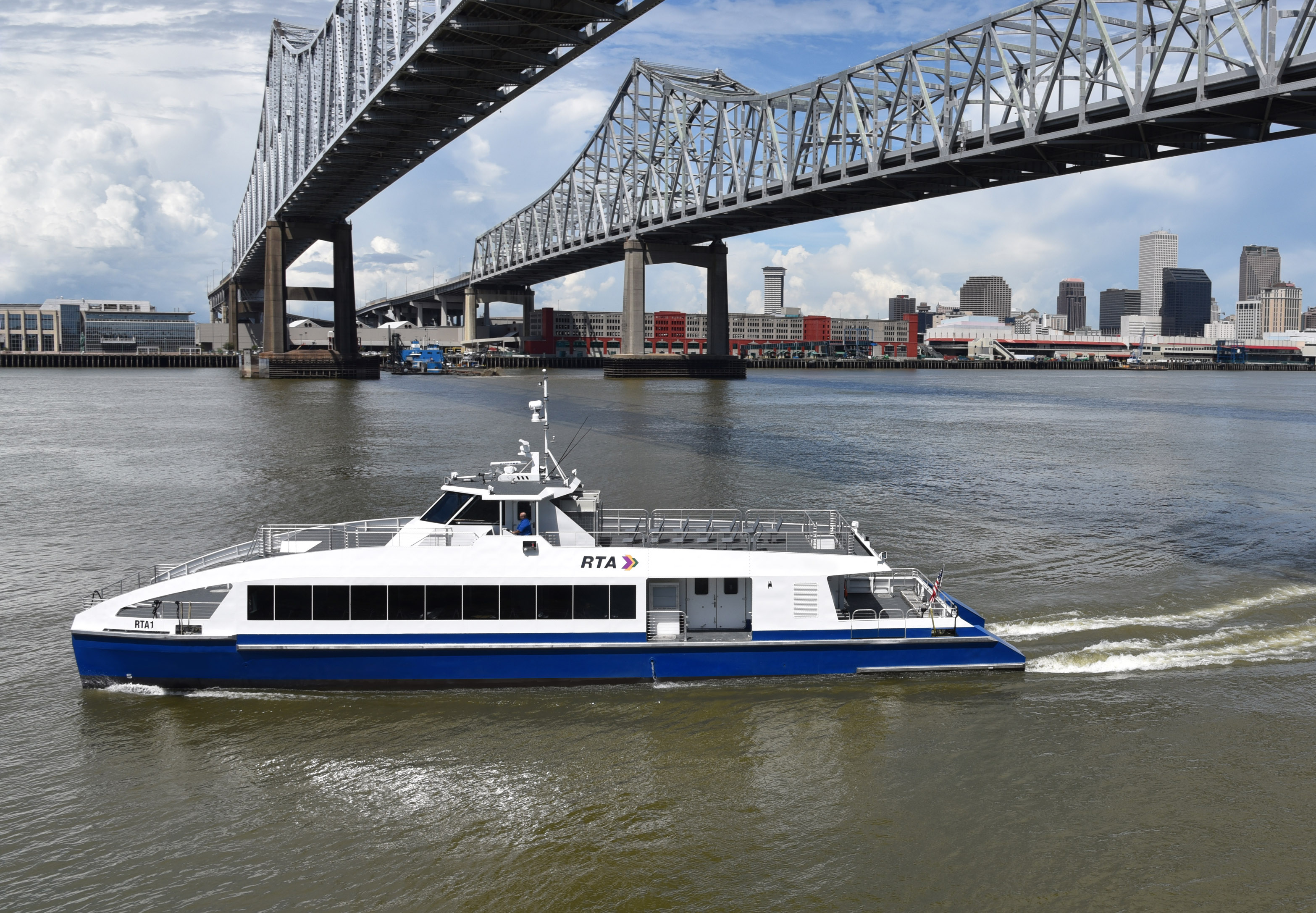 November 12th, 2018: Metal Shark Completes New Passenger Ferries for New Orleans Regional Transit Authority
Jeanerette, LA – November 12, 2018: Shipbuilder Metal Shark is pleased to announce that both new 105-foot, 150-passenger, high speed aluminum catamaran passenger ferries constructed for the New Orleans Regional Transit Authority (RTA) have been completed and are ready to enter service.
The first of the two new ferries was completed earlier this year and delivered to New Orleans in July. The second vessel is 100% complete at Metal Shark's Franklin, Louisiana shipyard where it successfully passed U.S. Coast Guard inspections at the beginning of October and is ready for delivery to New Orleans at RTA's discretion.
The new passenger ferries, RTA 1 and RTA 2, will replace the decades-old ferries currently operated in New Orleans and will usher in entirely new standards of comfort, safety, reliability, and efficiency.
The vessels were designed by BMT Designers and Planners and built to meet the specific requirements of the RTA. The USCG Subchapter "T" compliant ferries are powered by twin 715-horsepower Cat C-18 Tier 3 diesel engines and feature a proven, low wake/low wash, high efficiency hull design for reduced environmental impact.
"In the past 18 months, we have delivered over fourteen 150-passenger and 350-passenger ferries to New York, Washington, DC, and now, New Orleans," said Metal Shark CEO Chris Allard. "As a local Louisiana company, it has been an honor to build these modern, comfortable new vessels for the people of New Orleans and visitors from around the world."
Metal Shark is a diversified shipbuilder specializing in the design and efficient high quality construction of welded aluminum and steel vessels from 16' to over 300' for defense, law enforcement, and commercial operators. Key customers include the United States Coast Guard, Navy, Air Force, Army, foreign militaries, law enforcement agencies, fire departments, passenger vessel operators, pilot associations, towboat operators, and other clients worldwide. Metal Shark offers a broad portfolio of globally proven hull designs that may be fully customized thanks to 100% digital design and an in-house team of over 50 naval architects and maritime engineers. With three fully self-contained shipbuilding facilities in Alabama and Louisiana spanning over 75 total acres, Metal Shark's 500+ employees produce over 200 vessels per year with a proud and proven track record of high quality, on-time deliveries.
Metal Shark Completes New Orleans RTA Ferries 1 and 2 from Metal Shark Boats on Vimeo.