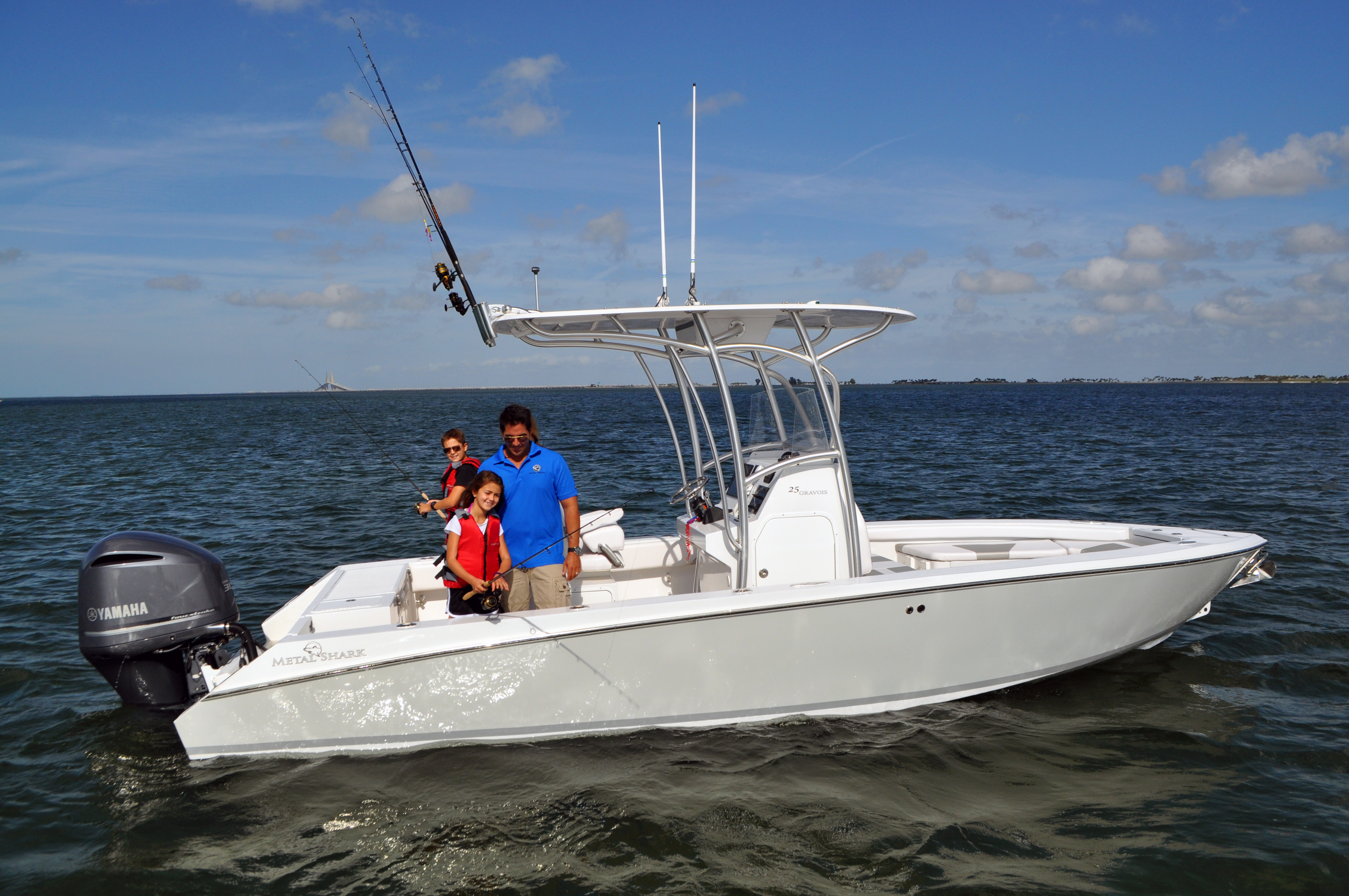 Metal Shark Introduces Aluminum 25' Bay Boat and Announces New Recreational Fishing Boat Line
Miami, FL  – February 12, 2015: Louisiana-based shipbuilder Metal Shark has introduced the first model in its new series of recreational fishing boats, a 25-foot bay boat, at the Miami International Boat Show.
Metal Shark is best known for the vessels it designs and builds for military, law enforcement, and commercial markets worldwide. The company's largest clients include the U.S. Air Force, Army, Navy, and Coast Guard.
While the 25 Gravois shares the sleek lines and amenities common among today's high-end bay boat offerings, it is immediately notable for its all-aluminum construction. The boat is made from digitally-cut plates of military-grade 5086 aluminum alloy, and is custom-built to "military-spec" standards alongside Metal Shark vessels produced for the U.S. Armed Forces.
"As a fully welded aluminum boat with very robust construction, the 25 Gravois is obviously very durable," explained Metal Shark president Chris Allard, "but we've taken great pains with the performance, ride, handling, and aesthetics to create a truly premium offering."
Well-known naval architect Michael Peters provided the running surface design for the 25 Gravois, which features an aggressively-stepped, ventilated, deep vee tunnel hull.
"The boat's performance is impressive," says Allard. "Acceleration is quick, the handling is nimble, and the boat keeps its poise in rough seas surprisingly well. The hull is very stout, and it has been foam filled for sound deadening. The result is a very soft, quiet ride with none of the perceived drawbacks a fiberglass boat enthusiast might expect from an aluminum hull."
The 25 Gravois is 100% digitally designed, and unlike fiberglass boats, requires no tooling as a part of its manufacturing process. Accordingly, the boat is offered with a very long list of available configurations and equipment. In "standard" trim, the 25 Gravois features a forward casting deck with storage beneath. Luxury-minded customers may opt for a bow seating configuration, to which an electric-actuated bow table may be added. The table lowers at mid-point to combine with a filler cushion to convert the entire forward cockpit into a lounge area. Removable contoured backrests may be added to create a pair of forward-facing lounge seats. The table lowers to sit flush with the floor when not in use.
In similar fashion, the boat's standard transom configuration has been designed for fishing, with a full-height transom that boasts dual livewells. Customers who desire a more luxurious layout may opt to add a comfortable rear bench seat with integrated backrest that easily folds away into the transom. A transom door may be added in place of one of the livewells.
Throughout the boat, customers may choose from a long list of available amenities, including multiple choices for seating, tops, fishing features, lighting, audio systems, electronics, and custom flooring options.
Two-color awlgrip paint is standard. For customers more concerned with durability than looks, the 25 Gravois may be delivered in the same bare-aluminum finish specified by the U.S. Coast Guard for their Metal Shark patrol boat fleet, for a discount of $4,995 off the base boat price.
"Military-spec" attention to detail can be observed throughout, from the uniform wiring inside the console with prewired service loops allowing for easy service in the field, to precision-welded hatches featuring dog-down latches and beefy gaskets to seal out the elements.
The 25-foot Gravois bay boat is part of Metal Shark's new Gravois recreational aluminum line that will eventually include a 22' bay boat, 28' hybrid bay boat, 35' offshore center console, and also 32' and 38' catamaran fishing boats. Metal Shark also offers recreational versions of some of its military and law enforcement offerings, such as its 32' and 40' "Fearless" all-aluminum offshore center consoles.
The recreational line bears the namesake of Metal Shark's parent company, Gravois Aluminum Boats. Company founder Jimmy Gravois and his family have built custom aluminum Gravois fishing boats since the early 1980s.
"The Gravois name enjoys quite a following in South Louisiana and along the Gulf coast from Texas to Alabama," said Allard. "People who know the boats tend to refer to them as 'lifetime hulls' because of their durability. With Metal Shark's new Gravois line, we plan to share the benefits of high-end aluminum construction with the rest of the boating public."
The 25 Gravois will be on display at the Miami International Boat Show
About Metal Shark:  Established in 1986, Gravois Aluminum Boats LLC, and its government/commercial boat entity Metal Shark are leading suppliers of custom boats for defense, law enforcement, and commercial entities. Key customers include the United States Coast Guard, Navy, Air Force, Army, foreign militaries, port operators and pilot associations, fire departments, and commercial entities worldwide. From its two fully self-contained facilities in South Louisiana, Metal Shark produces a wide range of custom monohull and catamaran center console and pilothouse patrol boats, fireboats, pilot boats, passenger vessels, and other specialty vessels up to 250'. Visit the company's website at www.metalsharkboats.com.