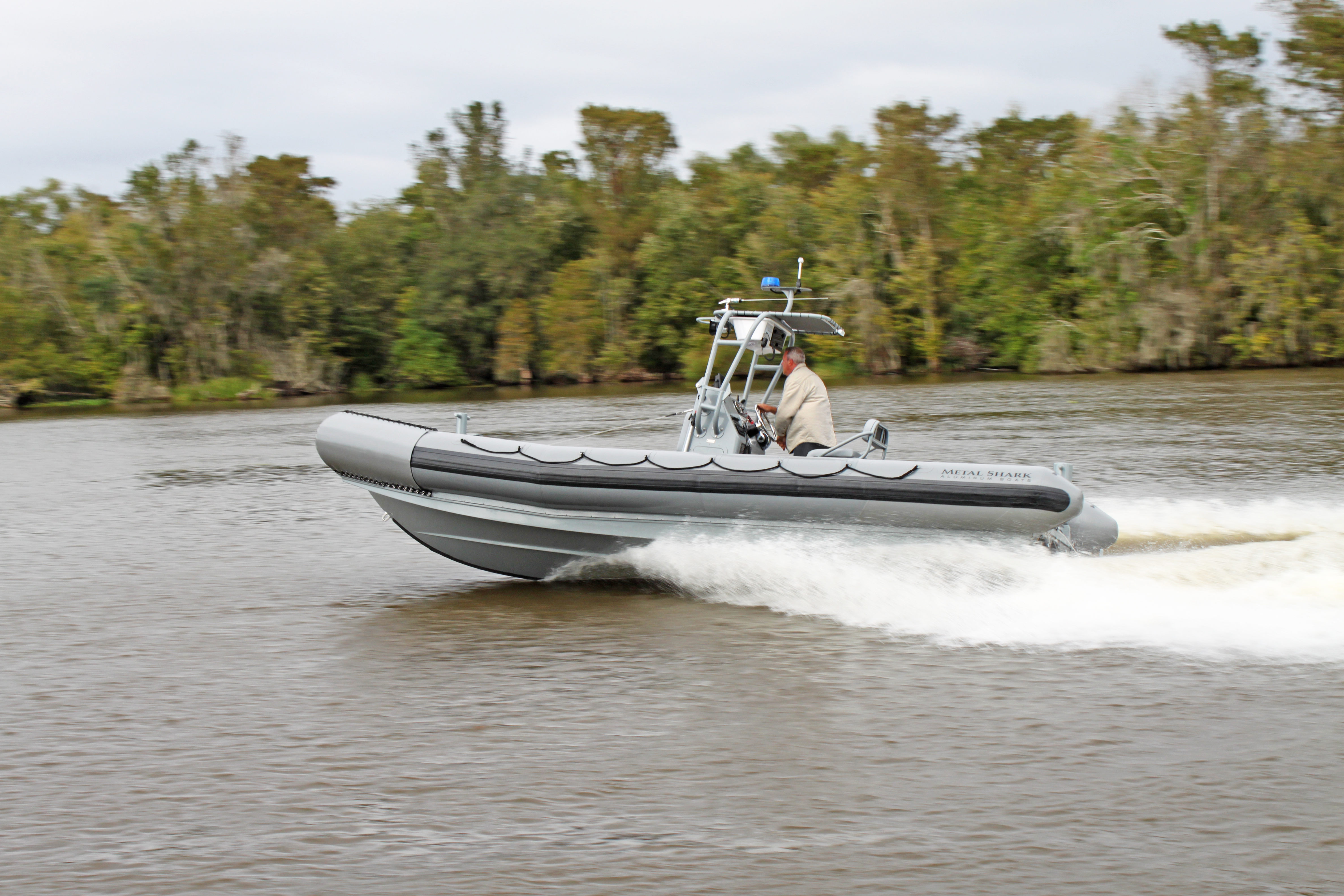 Metal Shark Awarded Navy Contract Worth Up to $47 Million
Jeanerette, LA  – March 17, 2015: Louisiana-based shipbuilder Metal Shark has been awarded a $15,309,410 firm-fixed-price, indefinite-delivery/indefinite-quantity contract for the construction of 7-meter rigid hull inflatable boats (RHIBs) in support of future Foreign Military Sales (FMS) requirements. The award includes options that, if exercised, will bring the total contract value to $47,408,209.
Metal Shark will produce the boats in a flexible baseline configuration that can be rapidly adapted via minor post-delivery alterations and delivered to support specific FMS case requirements worldwide  The 7-meter RHIBs produced by Metal Shark will support a range of missions including personnel/cargo transfer, search and rescue, open water patrol, vessel interdiction and boarding, and insertion/extraction of forces.
This is the latest in a series of sizeable military fleet contracts landed by Metal Shark. Among its active programs, the company is currently producing the US Navy's Force Protection Boat – Medium (FPB-M) and High Speed Maneuverable Surface Target Boat (HSMST), as well as the U.S. Coast Guard's Response Boat – Small (RBS). In addition, Metal Shark routinely builds vessels for FMS cases, state and local law enforcement agencies, pilot associations, port operators, and numerous other commercial interests.
"Metal Shark is proud to count the US Navy among its top customers, and with the award of this newest contract, we look forward to continuing and strengthening this relationship for years to come," said Metal Shark president Chris Allard. "Large orders such as this one benefit Metal Shark customers large and small by way of increased production efficiencies and economies of scale that keep our pricing competitive, our workforce stable, and our technology on the leading edge."
Established in 1986, Gravois Aluminum Boats LLC, and its government/commercial boat entity Metal Shark are leading suppliers of custom boats for defense, law enforcement, and commercial entities. Key customers include the United States Coast Guard, Navy, Air Force, Army, foreign militaries, port operators and pilot associations, fire departments, and commercial entities worldwide. From its two fully self-contained facilities in South Louisiana, Metal Shark produces a wide range of custom monohull and catamaran center console and pilothouse patrol boats, fireboats, pilot boats, passenger vessels, and other specialty vessels up to 250'. Visit the company's website at www.metalsharkboats.com.