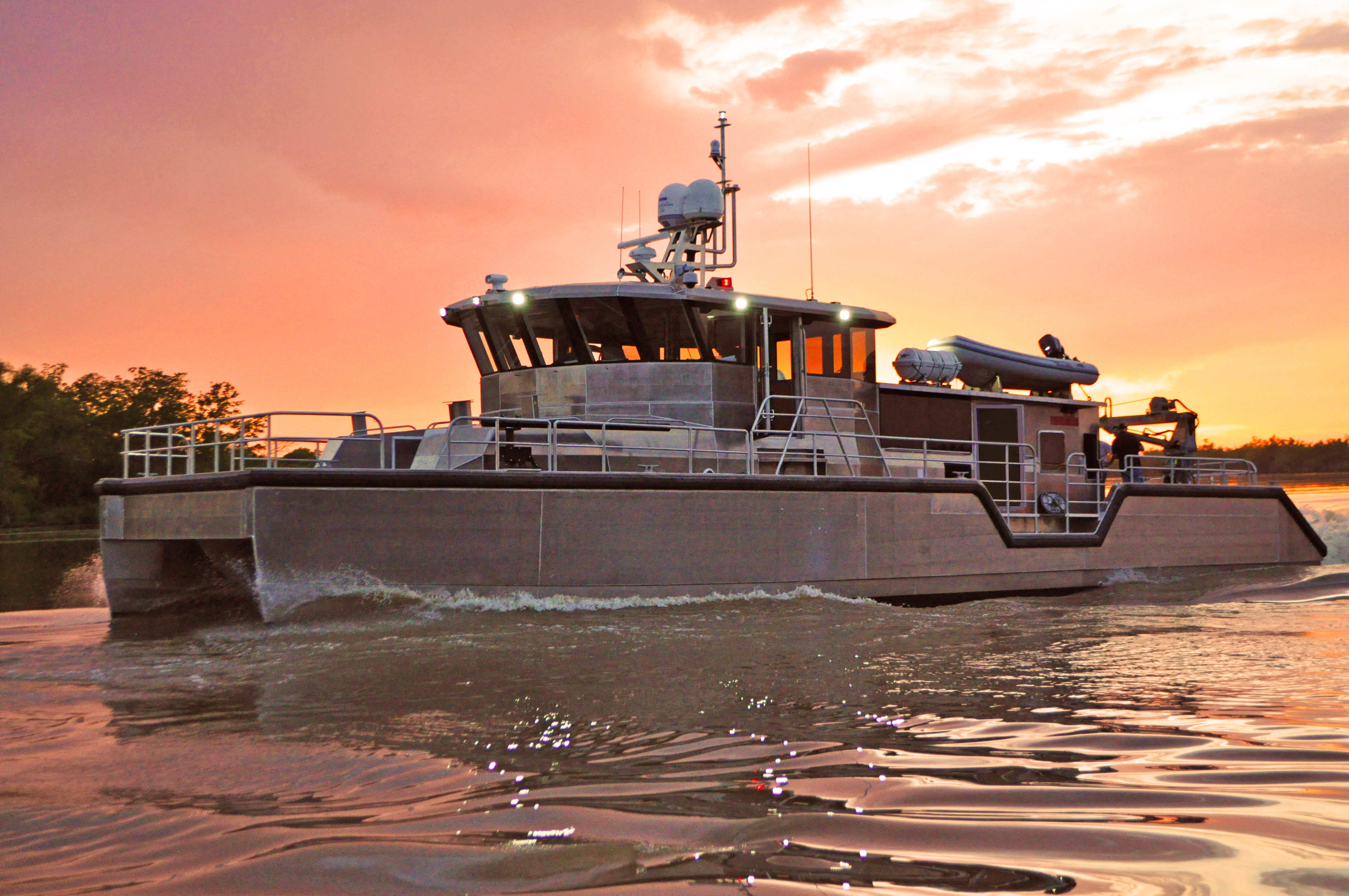 Metal Shark Delivers 75' Catamaran DSV to Aqueos Corp
Jeanerette, LA – May, 2015: Metal Shark has delivered a 75' catamaran dive support vessel to Broussard, Louisiana-based subsea services provider Aqueos Corporation.
The 75 Endurance-class DSV, which Aqueos has named "SPLASH," (Special Purpose Live Boating and Survey Hull) is a welded-aluminum pilothouse catamaran optimized for crew movement, visibility, protection, and functionality. The vessel has been equipped with a full complement of highly specialized systems supporting live-boating operations.
"The 75' Endurance DSV serves as a great example of our capability," Metal Shark's president Chris Allard explained. "It represents an extremely sophisticated merging of multiple highly specialized systems aboard a durable and proven platform."
To achieve the client's desired 25-knot maximum speed and 22-knot full-load cruise speed requirements, Metal Shark equipped the 75' Endurance DSV with twin Cat C-18 diesel inboards mated to Hamilton water jets, which assure maximum maneuverability and also diver safety. The vessel's twin 600-gallon fuel tanks allow for a nominal cruising range of approximately 600 miles, or a four day / 1,000-mile long-range cruise.
Thanks to Metal Shark's use of automotive-style fritted-fit pillarless glass, the vessel's octagonal pilothouse provides 360-degree views with almost unimpeded field of vision, making it ideal for around the clock operation. This visibility is critical for vessel positioning during diver operations or for maneuvering alongside offshore rigs or other vessels.
"Unlike other pilothouses with small framed windows, our arrangement, which has been proven extensively on our military and law enforcement patrol boats, significantly increases visibility and awareness," explained Allard.
Overhead spotter windows in the pilothouse roof are useful when operating alongside elevated structures. Retractable shades reduce heat load when the overhead windows are not needed.
The 75 Endurance boasts a spacious pilothouse with over 80" of headroom. Electrical defrosters with supplemental forced air provide defrosting and defogging for all cabin windows. The cabin is equipped with LED lighting suitable for day and night use. The lights are located overhead of the crew and offer downwards illumination.  Separate lights are placed over the coxswain/navigator and crew positions.
The helm has been equipped with five shock-dampening captain's chair-style seats, and additional pilothouse seating provides total seating for twelve crew under roof.  The helm position is centerline, with a digital multifunction gauge array positioned within sight of the helmsman. All gauges are fully dimmable for nighttime operation and compatible with night vision goggles. Forward and aft steering stations are equipped with joystick controls. The full navigation electronics suite includes a Furuno NavNet system with integrated GPS, radar, LRAD, FLIR, depth sounder, and VHF and UHF radios.
Below, each forward sponson features six bunks, for a total bunking capacity of twelve crew members. En suite workstations and generously sized hanging lockers have been provided. The belowdecks areas are accessed via wide, LED-illuminated stairways from the pilothouse.
Other onboard accommodations include two enclosed heads with hot water showers and marine toilets; a full galley with refrigerator, icemaker, microwave, cooktop, large cupboard areas, pantry; and a spacious main cabin dinette area offering seating for seven.
The 75 Endurance DSV has been designed to be self-sufficient during extended missions offshore. Two onboard 65kw generators provide electrical power. A Dometic reverse-osmosis system converts seawater to fresh water for drinking, showering, and the rinsing of dive equipment. Crew spaces are cooled by three redundant heavy-duty AC units, which are powered by the generators and keep the cabin cool even in the most severe environments.
The 75' Endurance DSV is equipped with a full range of dive equipment. Most notably, a massive Aqua-Air double-lock decompression chamber is housed in the aft deckhouse, where it is easily accessible from the aft deck via a dedicated entry hatch. Other dive features include a 6×5 jet pump, dive control station, Nitrox o2 enriched diving station, video streaming system, diver hydraulics, diver hot water, massive dive tank rack, and a 5,000 lb.-capacity aft deck hydraulic crane.
Wide side walkways provide easy transit pathways from bow to stern, low-level LED night lighting has been provided, and careful consideration has been given to the location of all safety rails. The vessel has been equipped with port, starboard, and stern rescue zones, a diver recovery system, and a deployable 11' Rigid Inflatable Boat (RIB) for diver recovery.
An expansive aft deck work area provides 19' x 22' of open workspace for dive operations, with another 12' x 22' clear deck area forward. Even considering the staggering amount of equipment onboard, the 75' Endurance DSV offers ample room throughout, and never feels cramped or cluttered.
Metal Shark's Endurance-class hull form, already in use with multiple operators across a wide range of markets, is available in sizes ranging from 45' to 75' with propulsion options including conventional straight-shaft inboards, water jets, and pods.
Established in 1986,Gravois Aluminum Boats LLC, and its government/commercial boat entity Metal Shark Boats are leading suppliers of custom boats for defense, law enforcement, and commercial entities. Key customers include the United States Coast Guard, Navy, Air Force, Army, foreign militaries, port operators and pilot associations, fire departments, and commercial entities worldwide. From its two fully self-contained facilities in South Louisiana, Metal Shark produces a wide range of custom monohull and catamaran patrol boats, fireboats, pilot boats, passenger vessels, and other specialty vessels up to 250'. Visit the company's website at www.metalsharkboats.com.