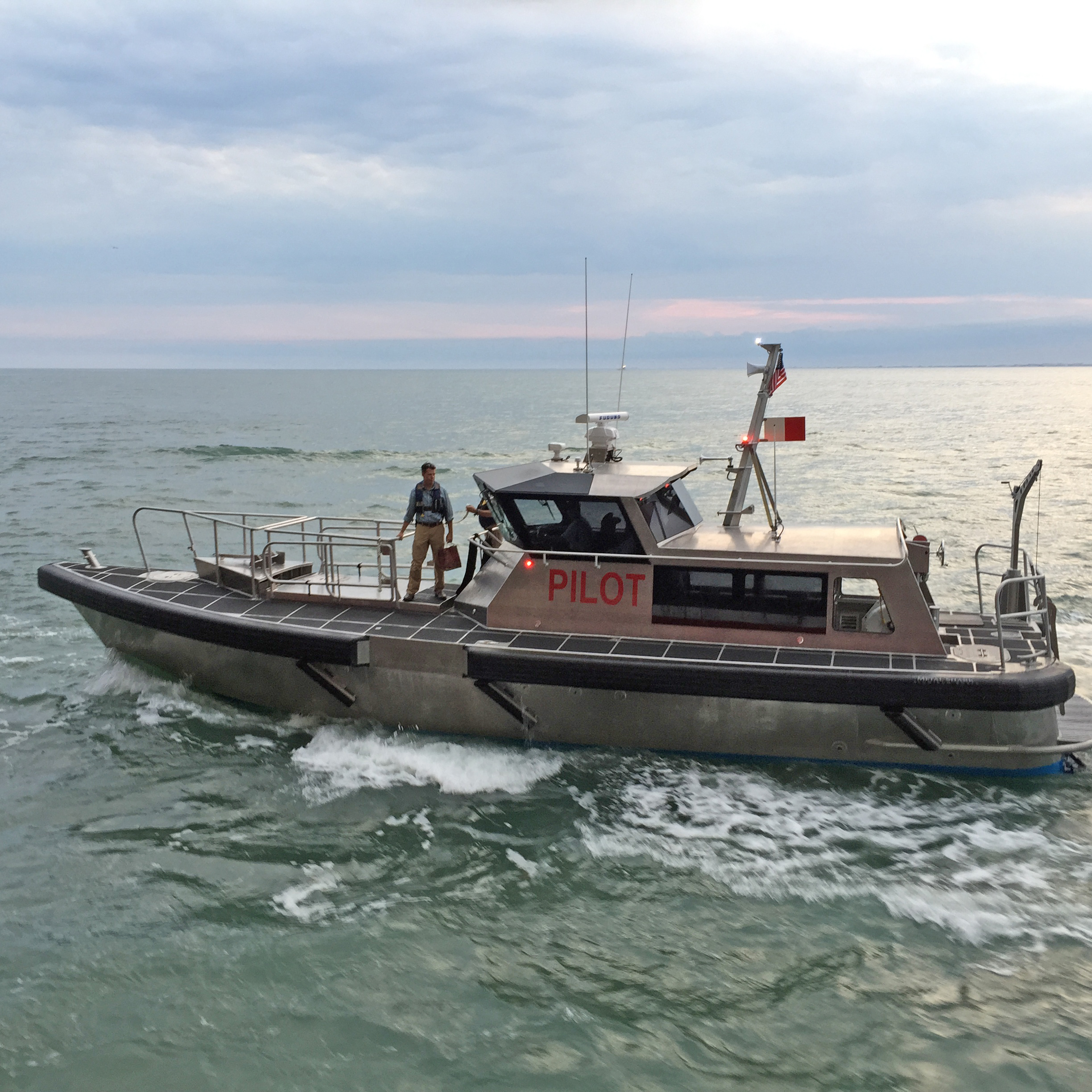 Metal Shark Delivers New Pilot Boat to the Canaveral Pilots Association
Jeanerette, LA – January 12, 2015: Louisiana-based boat manufacturer Metal Shark has delivered a new pilot boat to the Canaveral Pilots Association at Port Canaveral, Florida.
The custom 45-foot aluminum vessel was built at Metal Shark's newly-opened shipyard in Franklin, Louisiana.
For the project, the Canaveral Pilots specified a purpose-built pilot boat design by naval architect Bill Preston. The design utilizes the weight of a single bow-mounted diesel engine and an extremely sharp forward entry to slice levelly through waves as opposed to riding over the top of the crests and then plummeting into the troughs. Due to its enhanced stability, this proven design is used by several pilot groups operating in the often adverse open ocean conditions encountered along Florida's Atlantic Coast.
Mike Rigby, senior boat captain and director of engineering for the Canaveral Pilots, explained, "We have nearly five miles of exposure to the South Atlantic and it can get very nasty at times. While we and other pilot groups on the East Coast of Florida are already very familiar with the seakeeping abilities of this design, Metal Shark really did an outstanding job with the execution. The boat performs far beyond our expectations and easily cruises at 18 knots in three to five foot seas combining single engine economy with a comfortable big-boat ride."
Metal Shark added its own unique touches to the design, such as its use of wraparound "pillarless" glass in the pilothouse to substantially reduce blind spots for greatly enhanced safety during inclement weather or nighttime operations. This is an important consideration for pilots operating around the clock.
Naval architect Bill Preston stated, "Metal Shark did a superb job of building the 45' Pilot Boat.  It was a pleasure to have the shipyard improve on the design and details. They took the construction drawings to the next higher level of details resulting in the best possible product. All this was confirmed in the boat trials and on the delivery trip."
Mike Rigby added, "This Metal Shark is truly outstanding and we couldn't be happier. Any pilot group that operates in rough conditions really needs to come to Canaveral and ride this boat to experience it for themselves."
Metal Shark's Franklin yard is capable of producing aluminum and steel vessels up to 250' in length.
About Metal Shark:  Established in 1986, Gravois Aluminum Boats LLC, and its government/commercial boat entity Metal Shark, are leading suppliers of custom boats for defense, law enforcement, and commercial entities. Key customers include the United States Coast Guard, Navy, Air Force, Army, foreign militaries, port operators and pilot associations, fire departments, and commercial entities worldwide. From its two fully self-contained facilities in South Louisiana, Metal Shark produces a wide range of custom monhull and catamaran center console and pilothouse patrol boats, fireboats, pilot boats, passenger vessels, and other speciality vessels up to 250'. Visit the company's website at www.metalsharkboats.com.