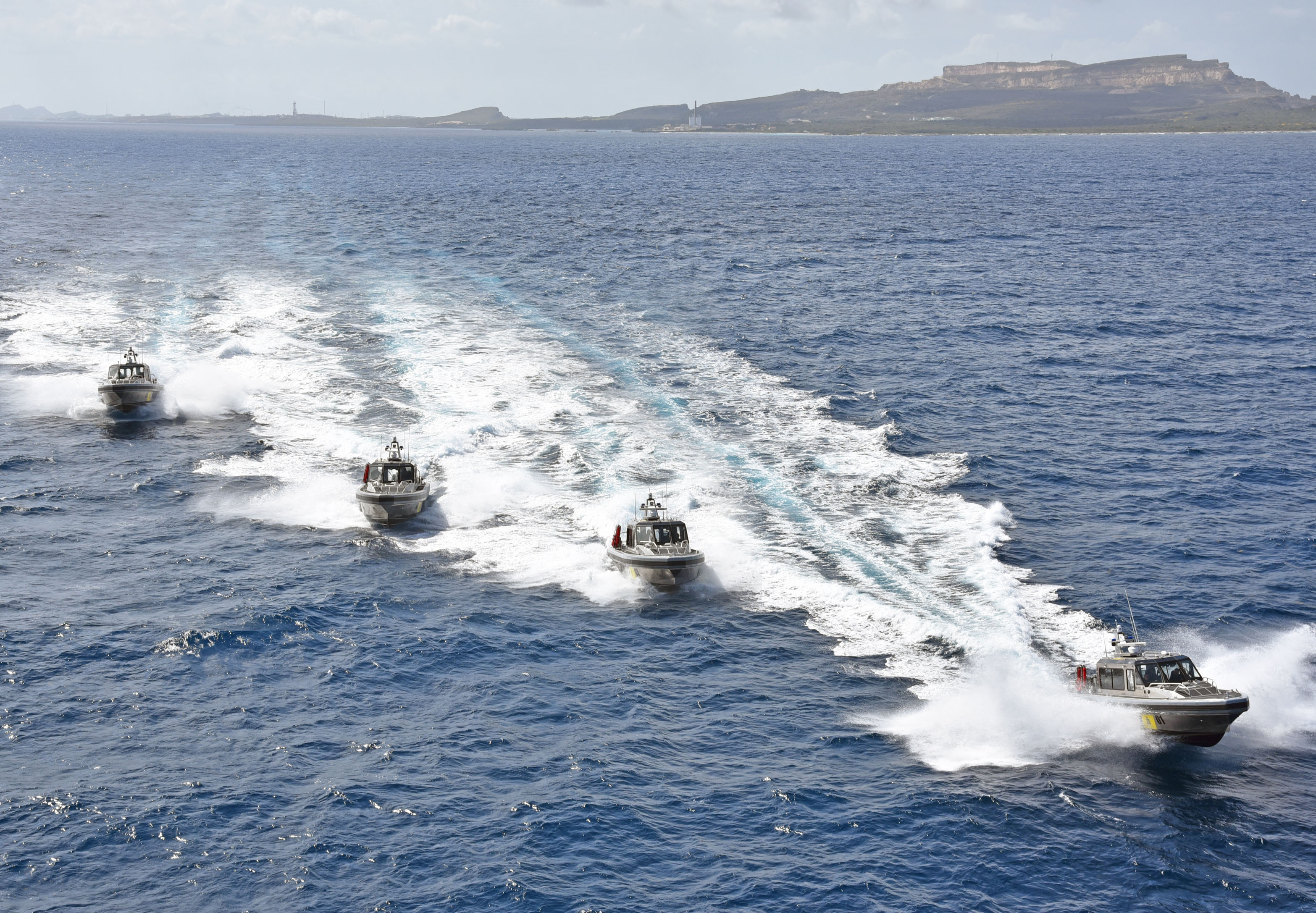 May 10th, 2018: Metal Shark Delivers New Patrol Boats to the Dutch Caribbean Coast Guard in Curacao
Jeanerette, LA – May 10, 2018: Four new high speed patrol boats manufactured by Louisiana, USA-based shipbuilder Metal Shark for the Dutch Caribbean Coast Guard (DCCG) have been commissioned on the island of Curacao.
The new vessels are the first to be delivered to the DCCG under a 12-boat order announced last year.
Designed in-house by Metal Shark and built at the company's Jeanerette, Louisiana production facility, the welded aluminum, enclosed-pilothouse, 38 Defiant monohull patrol boats are the result of a multi-year effort by the DCCG to procure a replacement for its fleet of open-cockpit RIBs. The new vessels will serve as the DCCG's main interceptors, patrolling the territorial waters of Aruba, Bonaire, Curacao, St. Eustatius, St. Maarten, and Saba.
Powered by twin Cummins Marine QSB6.7 diesel engines coupled with counter-rotating dual-prop stern drives, the 38 Defiant reaches top speeds in excess of 45 knots.
A fully-enclosed pilothouse shields the crew from the elements, while Metal Shark's signature "Pillarless Glass" pilothouse arrangement assures unimpeded visibility, day or night. Specially engineered composite armor panels provide ballistic crew protection from unfriendly fire.  Shockwave Corbin shock-mitigating seating has been provided for a crew of six, and anti-fatigue floor covering has been employed in the pilothouse and the belowdecks crew spaces. A urethane-sheathed, closed-cell foam Wing collar provides durable and resilient fendering. For extended patrols at sea, accommodations include an enclosed head compartment, galley, and v-berth.
"Metal Shark collaborated extensively with the Dutch Ministry of Defense as well as the end users in Aruba, Curacao, and St. Maarten to optimize our design to accommodate a very challenging mission set," explained Henry Irizarry, Metal Shark's Vice President of International Business Development. "From adapting a stern drive propulsion system for crew familiarity and fleet commonality, to altering the vessels' physical dimensions to clear low bridges while preserving pilothouse headroom, all with the demands of high speed, open-ocean operation in mind, these boats have been specifically tailored for the DCCG."
"With their fully enclosed pilothouses, shock-mitigating seating, and the durability of welded aluminum construction, these patrol boats represent a significant capabilities upgrade for the DCCG, especially in the rough sea conditions prevalent off the coast of Curacao," said Mr. Irizarry. "These new vessels are an asset for the entire region; increasing range and reducing response time while greatly improving the safety of the crews who operate them."
"By the end of the year, Metal Shark vessels will be operational in the militaries of over 50 countries worldwide," said Metal Shark's CEO Chris Allard."With our extensive portfolio of great-performing hull designs and the flexibility of our design team to meet customers' needs with innovative solutions, we continue to expand Metal Shark's global footprint."
Additional Metal Shark vessels for the islands of Aruba and St. Maarten are currently in production, with deliveries slated for later this year.
Established in 1986, Gravois Aluminum Boats LLC, and its government/commercial boat entity Metal Shark Boats are leading suppliers of custom boats for defense, law enforcement, and commercial entities. Key customers include the United States Coast Guard, Navy, Air Force, Army, foreign militaries, law enforcement agencies, passenger vessel operators, pilot associations, fire departments, and other operators worldwide. Under the direction of its owner/operator Allard and Gravois families, Metal Shark has produced over 600 vessels in the past three years at its two fully self-contained South Louisiana production facilities. Metal Shark produces a wide range of custom monohull and catamaran vessels up to 250'. www.metalsharkboats.com.