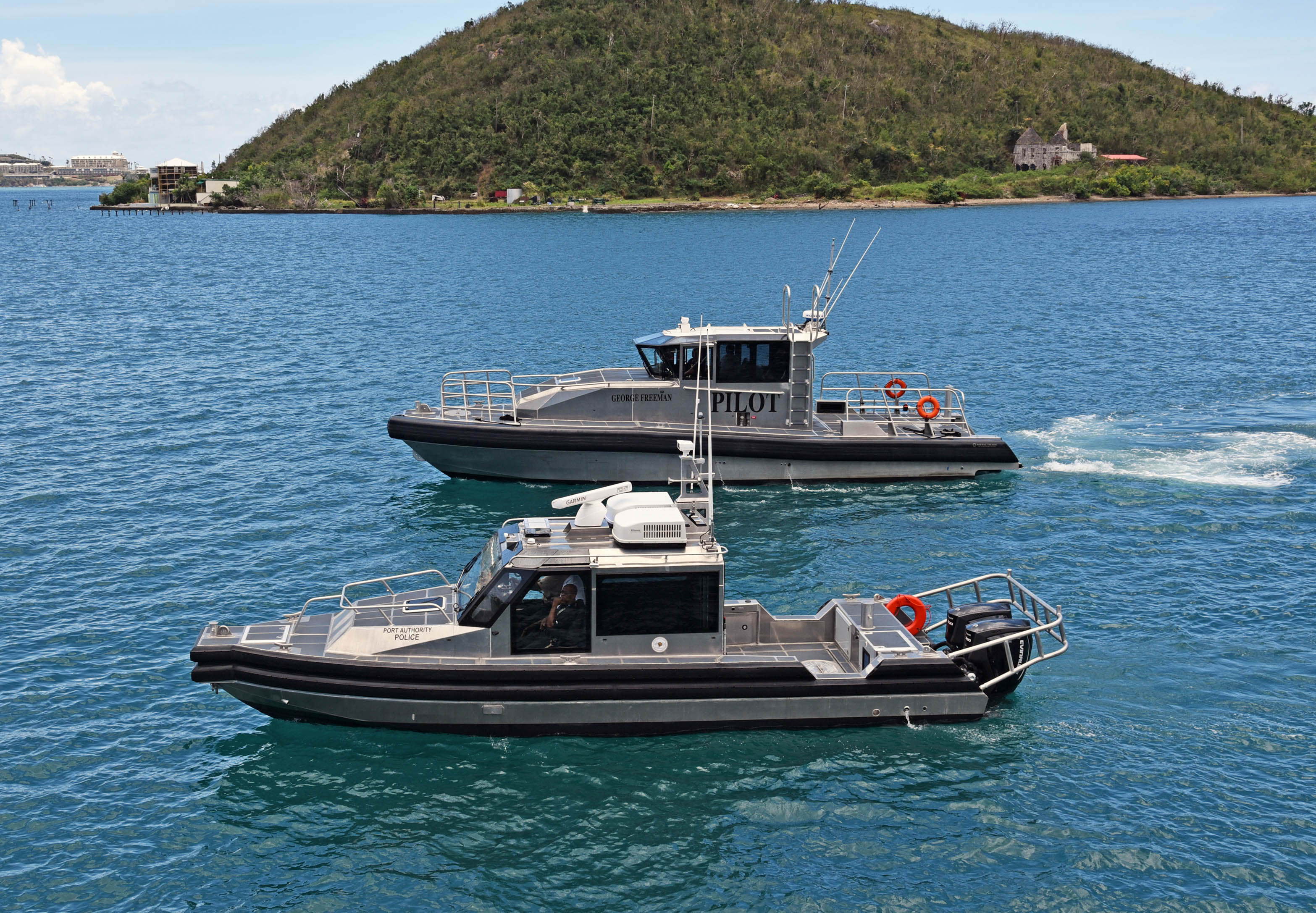 April 24th, 2018: Metal Shark Delivers New 45' Pilot Boat and 32' Port Security Boat to the Virgin Islands Port Authority
Jeanerette, LA – April 24, 2018: Louisiana-based shipbuilder Metal Shark has delivered two new custom welded aluminum vessels to the Virgin Islands Port Authority (VIPA).
The vessels, designed by Metal Shark and built at the company's Jeanerette, Louisiana production facility, were recently delivered to St. Thomas and transferred to VIPA. Both vessels are now operating from the Edward Wilmoth Blyden IV Marine Facility on the Charlotte Amalie waterfront where they serve the island of St. Thomas and also nearby St. John.
The new pilot boat is a 45-foot Defiant-class monohull pilothouse vessel with a military-proven hull design and a unique deck arrangement specifically designed for pilot operations.
The vessel's climate-controlled pilothouse features Metal Shark's signature "Pillarless Glass" for significantly improved visibility, in a reverse-raked arrangement developed by Metal Shark with input from numerous pilot groups. Visibility is further augmented by the vessel's elevated, centerline helm position. Large opening side and aft pilothouse windows and a wireless crew communication headset system facilitate crew coordination during pilot transfers, and large overhead skylights provide upward visibility while approaching and operating alongside moving ships.
Fully flush non-skid decks allow for unimpeded access around the vessel, and hand rails have been placed within easy reach of all crew, inside the cabin and outside on deck, at all times. Low-level LED pathway lighting enhances safety during nighttime operation. The vessel's large, functional swim platform, plus easily accessible Jason's Cradle, dive ladder, and throwable life rings, are intended to assure quick and safe crew retrieval in the event of a man overboard situation.
Powered by twin Cummins Marine QSM11 diesel engines coupled with Hamilton HJ322 waterjets, the 45 Defiant Pilot demonstrates pinpoint maneuverability while delivering a cruise speed in excess of 30 knots and a top speed in the 40 knot range. A urethane-sheathed, closed-cell foam Wing collar provides durable and resilient fendering. Shock-mitigating seating has been provided for a crew of five, and anti-fatigue floor covering has been provided in the pilothouse and the belowdecks crew spaces. Additional features include a galley, enclosed head compartment, v-berth, and large walk-in mid-cabin storage compartment.
VIPA has named its new pilot boat the "George Freeman" in honor of its first coxswain, George Elwin Freeman Sr., who worked for VIPA for 33 years until his passing in 2000.
For its new port security patrol boat, VIPA selected Metal Shark's 32' Defiant, a proven patrol platform with over 100 units in military and law enforcement service worldwide.
Funded in part by a FEMA Port Security Grant, the vessel has been outfitted with a postivie-pressure Chemical, Biological, Radiological, Nuclear, and high-yield Explosive (CBRNE) crew protection system to assure safe and uninterrupted operation in a wide range of disaster response scenarios.
Like its larger 45' pilot boat sibling, VIPA's 32' port security boat features Metal Shark's pillarless pilothouse glass to significantly reduce blind spots compared to conventional pilothouse designs which use smaller, framed windows. Shock-mitigating seating has been provided for a crew of 4 inside the vessel's climate-controlled cabin.
Powered by twin Evinrude E-TEC G2 300HP outboard engines, VIPA's 32 Defiant port security vessel cruises at 35 knots and achieves top speeds approaching 50 knots.
"Metal Shark has expanded into the pilot boat market by applying the same principles that made us so successful in the military patrol boat sector," explained Metal Shark's CEO Chris Allard. "We start with a proven hull design to deliver a boat that performs well and is built to last. Beyond that, we focus on offering genuine improvements by incorporating modern features into smarter and more user friendly arrangements that simply work better than what's out there. We continue to gain customers in new markets by delivering improved platforms that deliver tangible and sometimes unexpected benefits to operators."
"Both of these vessels offer significant imrpovements over the boats they're replacing, in terms of crew safety, comfort, and efficiency,and port operations will undoubtedly be enhanced as a result of these acquisitions," said Carl Wegener, Metal Shark's Vice President of Commercial Sales. "With additional pilot boats now in production, we look forward to demonstrating to pilots and port operators everywhere the many advantages a custom Metal Shark pilot boat can bring to their organizations."
Established in 1986, Gravois Aluminum Boats LLC, and its government/commercial boat entity Metal Shark Boats are leading suppliers of custom boats for defense, law enforcement, and commercial entities. Key customers include the United States Coast Guard, Navy, Air Force, Army, foreign militaries, law enforcement agencies, passenger vessel operators, pilot associations, fire departments, and other operators worldwide. Under the direction of its owner/operator Allard and Gravois families, Metal Shark has produced over 600 vessels in the past three years at its two fully self-contained South Louisiana production facilities. Metal Shark produces a wide range of custom monohull and catamaran vessels up to 250'. www.metalsharkboats.com.