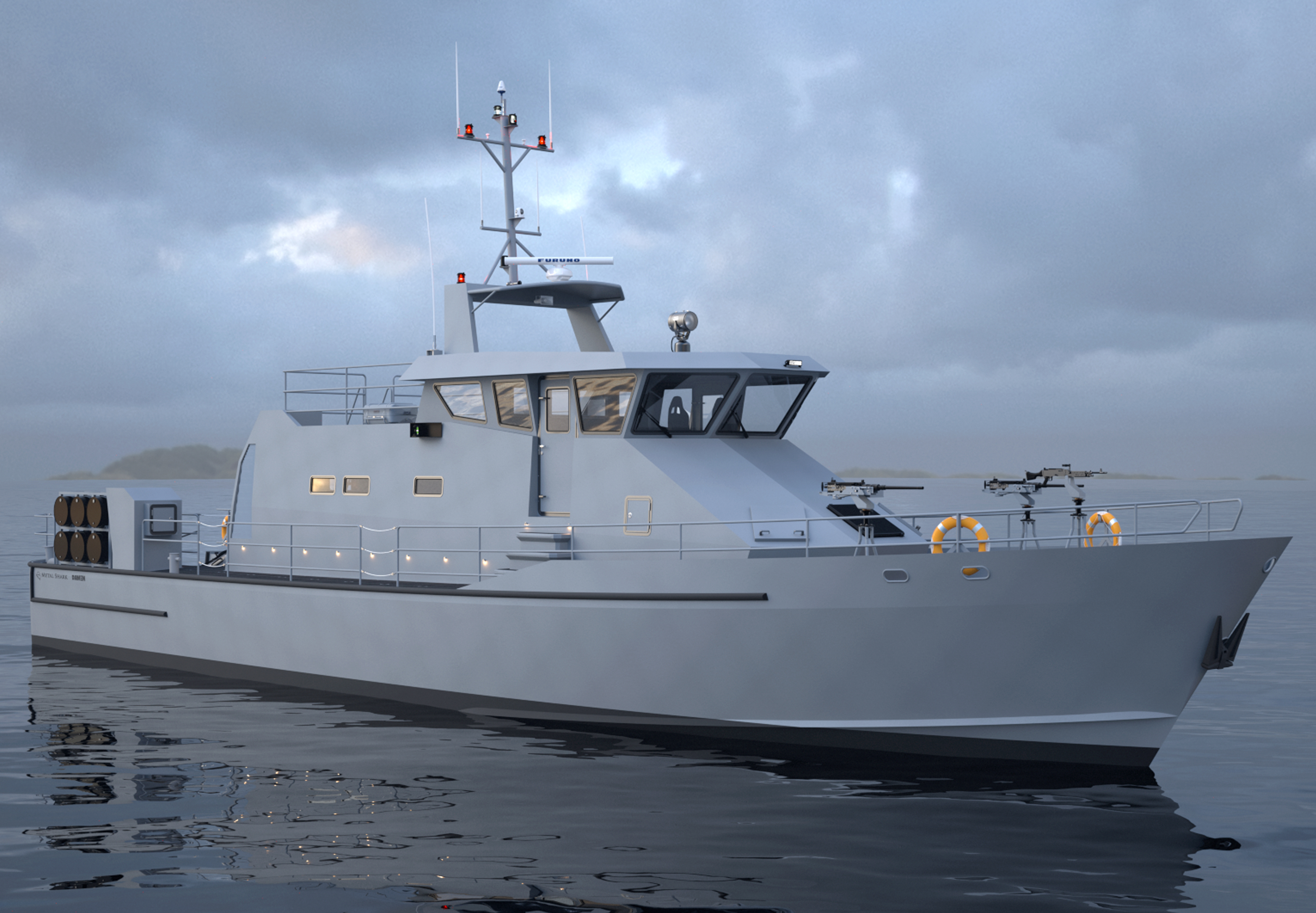 June 23rd, 2017: Metal Shark Wins $54 Million US Navy NCPV Contract
Jeanerette, LA – June 23rd, 2017: Louisiana-based shipbuilder Metal Shark has been selected by the US Navy to build Near Coastal Patrol Vessels (NCPVs) for United States partner nations through the Department of Defense Foreign Military Sales (FMS) program.
Metal Shark's proposal was selected by Naval Sea Systems Command from a field of six competing shipyards.
Under the terms of the award, potentially worth upwards of $54 million, Metal Shark will build up to thirteen 85-foot Defiant-class welded aluminum cutters for the Dominican Republic, El Salvador, Honduras, Costa Rica, Guatemala, and other United States partner nations. Additionally, Metal Shark will supply electro-optical infrared sensors, diagnostic equipment, in-country reactivation, crew familiarization, and test support to NCPV operators.
The new vessels are based on Damen Shipyards' Stan Patrol 2606 design, tailored by Metal Shark to suit the requirements of the NCPV mission. The versatile cutter can accommodate a wide range of mission profiles including search and rescue, border patrol, police and customs duties, counter-narcotics operations, and securing waters of economic importance.
Key attributes of Damen's Stan Patrol 2606 include excellent performance and seakeeping, large payload capacity, economical operating cost, and proven durability. Metal Shark has applied its own enhancements to Damen's standardized patrol platform to provide the crew-friendly functionality found on other Metal Shark patrol craft.
"The NCPV award is the first result of a multi-year collaboration between Damen and Metal Shark," said Metal Shark CEO Chris Allard. "The Damen team has consistently provided us with outstanding technical support, their designs are thoroughly proven in service across a range of markets, and their global service network has proven to be a very powerful selling feature. Metal Shark is eager to begin NCPV construction and showcase our capabilities as we quickly and efficiently build and deliver these state of the art patrol cutters."
"Metal Shark has long impressed us with their ambitious growth and their considerable engineering resources," said Jan van Hogerwou, Damen Shipyards' North American VP of New Construction. "Damen is proud to now become a part of the Metal Shark growth story as we work together to deliver this newest fleet of Stan Patrol vessels to military operators worldwide. We look forward to working closely with Metal Shark not only on this program but also as we continue to collaborate on other opportunities in the pipeline."
The NCPV fleet will be built at Metal Shark's Franklin, Louisiana waterfront shipyard, which recently completed the on-time delivery of six 88-foot, high-speed passenger vessels for New York City's new NYC Ferry Service, and also delivered the first six of eighteen 45' patrol boats to the Vietnam Coast Guard.
Other noteworthy Metal Shark builds include ongoing construction of the 500-boat Response Boat – Small (RB-S) contract for the US Coast Guard and 80-boat Force Protection Boat – Medium (FPB-M) contract for the US Navy, four 88′ passenger vessels currently being built for the  Potomac Riverboat Company division of Entertainment cruises for Washington DC, two 105' high speed passenger ferries for the New Orleans Regional Transit Authority, and nearly 200 vessels either in production or delivered over the past three years to the militaries of over 20 United States partner nations across Africa, Asia, the Caribbean, the Middle East, and South America.
Established in 1986, Gravois Aluminum Boats LLC, and its government/commercial boat entity Metal Shark Boats are leading suppliers of custom boats for defense, law enforcement, and commercial entities. Key customers include the United States Coast Guard, Navy, Air Force, Army, foreign militaries, law enforcement agencies, passenger vessel operators, pilot associations, fire departments, and other operators worldwide. Under the direction of its owner/operator Allard and Gravois families, Metal Shark has produced over 500 vessels in the past three years at its two fully self-contained South Louisiana production facilities. Metal Shark produces a wide range of custom monohull and catamaran vessels up to 250'. www.metalsharkboats.com.