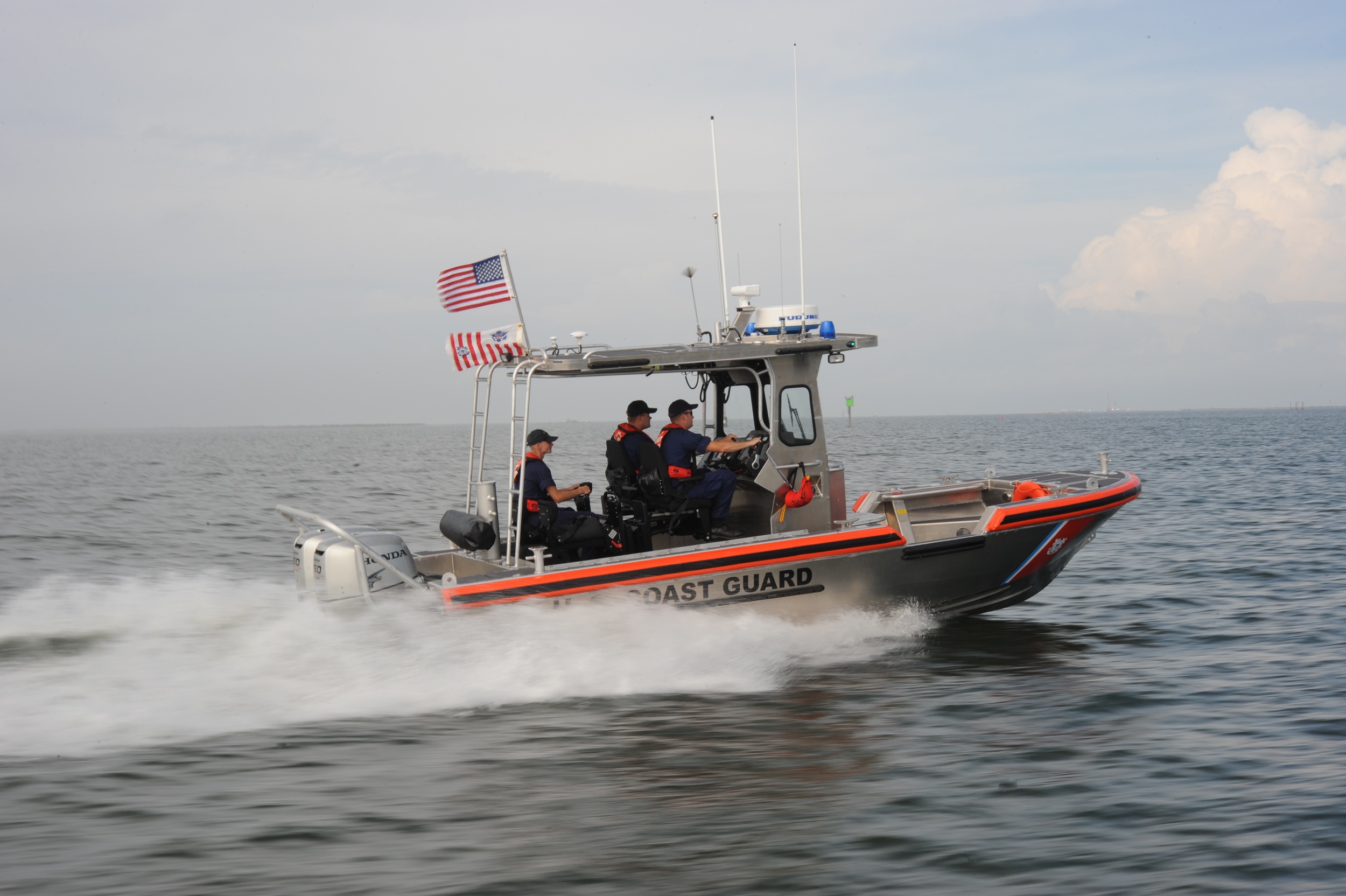 Metal Shark Awarded Second Major USCG Contract
Jeanerette, LA – September, 2008: Metal Shark was recently awarded a contract to build 90 shallow water patrol craft for the U.S. Coast Guard and Customs and Border Protection agencies. The contract was awarded by the USCG Office of Boat Forces, which will identify the boats as the Special Purpose Craft – Shallow Water (SPC-SW). The vessels are multi-mission assets with uses including search and rescue, maritime law enforcement, and ports, waterways, and coastal security.
The SPC-SW is a 25-ft. fully welded aluminum center console based on the Metal Shark 24 Relentless. The hull's shallow aft dead rise sharpens forward to provide a shallow-draft platform with an excellent rough water ride – the boat is designed to operate in seas up to six feet. It is powered by twin 150 horsepower counter-rotating Honda outboards, producing a top speed in excess of 40 knots. The engines are tied together on a single hydraulically-actuated jack plate that allows the SPC-SW to operate in 18 inches of water at low speeds. The vessel has a 175-NM range at a 30 knot cruising speed.
The SPC-SW features a unique foam collar fendering system, which provides fendered protection without robbing valuable working space from the vessel layout. Coupled with dive reliefs on both port and starboard gunnels, the SPC-SW is specifically designed to accommodate on-water boardings and personnel recovery operations. Other features of the SPC-SW include four independently mounted, shock-mitigating seats. The large forward deck of the SPC-SW provides more than ample working space. The dive reliefs incorporated into the surrounding gunnels serve to aid boardings, and are ideally located forward and in clear view of the helmsman.
The USCG vessels are equipped with a Scalable Integrated Navigation System (SINS) Furuno Package, which includes GPS/radar/chart plotter functionality. Additional electronics onboard are VHF, UHF, loudhailer and AIS systems. The SPC-SW is equipped with forward and stern-quarter weapons mounts capable of handling M240 machine guns. An additional recessed deck mount forward supports a tripod and .50 caliber machine gun. Optional, removable ballistic armor protection wraps the crew seating area.
The SPC-SW was designed by Metal Shark and will be manufactured at its Jeanerette, Louisiana facility. This is the second USCG contract for Metal Shark, the first being a 100 boat contract for the 27' Trailerable Aids to Navigation Boat (TANB).