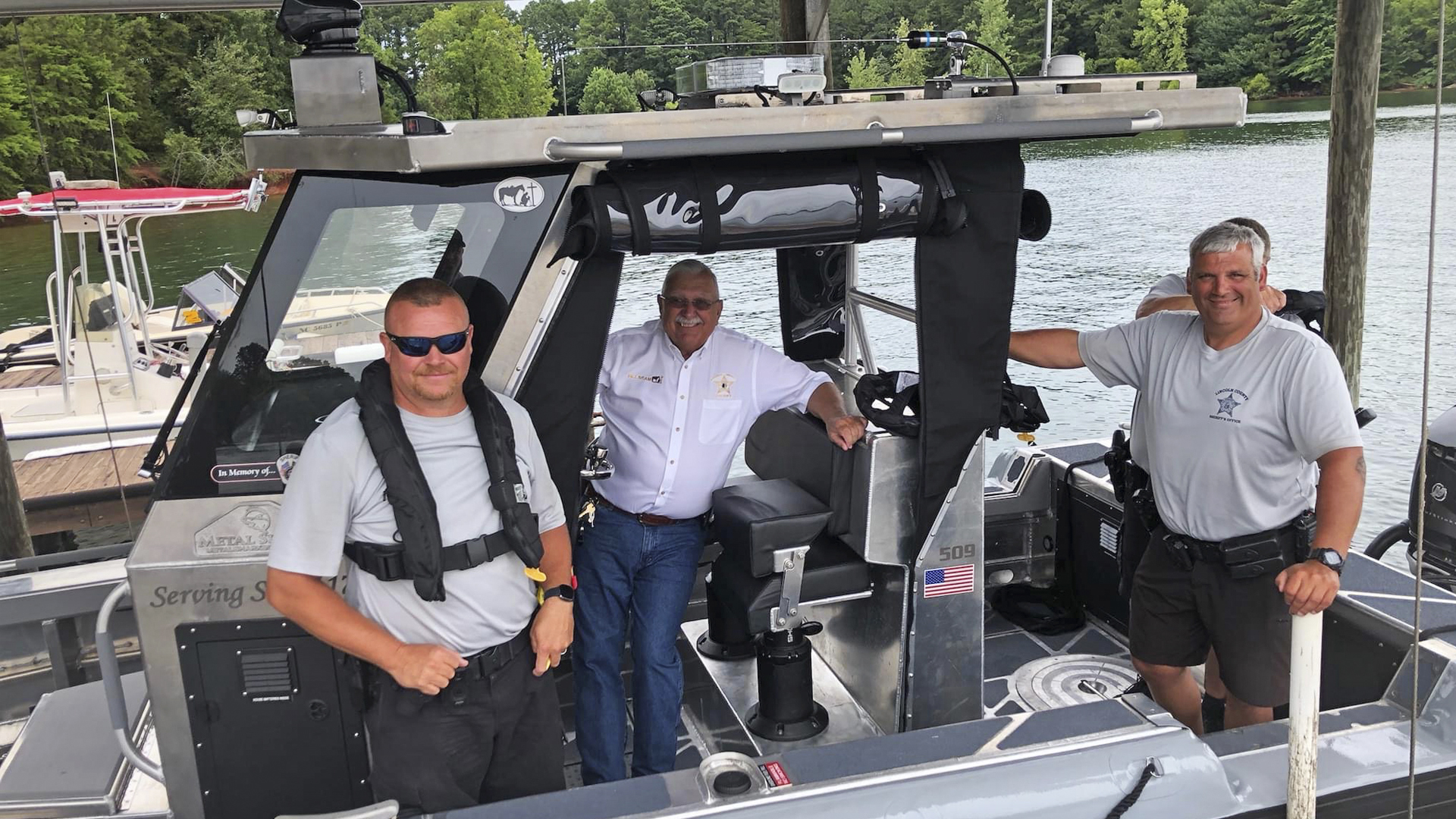 July 7th, 2021: Lincoln County Sheriff Takes Delivery of New Metal Shark Patrol Boat
Jeanerette, LA – July 7th, 2021: The Lincoln County (NC) Sheriff's Office has taken delivery of a new patrol boat build by Louisiana-based boat builder / shipbuilder Metal Shark.
The department's new Metal Shark 23 Relentless is a high performance welded-aluminum center console craft boasting a modern, crew-friendly arrangement optimized for law enforcement use.
"Our expectations have been exceeded," said Bill Beam, Lincoln County Sheriff. "Guided by our local resident and Metal Shark rep John Hotz, we were able to select the perfect boat for our department. We have been on Lake Norman in North Carolina since 1995. We started with jet skis, then an old ski boat, and then a fishing boat. I wanted a real police boat, equipped that way. That's what we got in our Metal Shark 23 Relentless, a boat that can be beached on islands and hold up to daily 12-hour use, seven days a week. A real police boat that handles and rides, and also has a presence."
The fast, nimble, compact, and easily trailerable 23 Relentless has been fully optimized for law enforcement agencies. An oversized integrated hard top with drip rails, and a full-height three-panel tempered glass windshield have been provided for weather protection and reduced operator fatigue. A full curtain enclosure enables all-weather operation. The vessel's helm and overhead electronics pod have been designed to place controls, switches, and electronics within easy reach for intuitive operation. A large watertight storage compartment with 12V USB power supply has been integrated into the dash to allow for the storage and operation of laptops and printers. The entire console and T-top underside features glare-resistant matte-finish blackout coating for enhanced helm visibility in low-light conditions. Lincoln County's new vessel is powered by a single 350-HP Mercury Verado outboard.
The 23 Relentless is immediately identifiable as a purpose-built law enforcement craft, with an authoritative presence that makes it easy to distinguish from recreational pleasure boats.
"This community loves their lake and totally support their law enforcement," said Sheriff Beam. "When I took one of the first rides on this boat, our citizens were coming out and waving at the end of the dock!"
The Sheriff gave a strong endorsement of Metal Shark and his experience working with Metal Shark Senior Account Manager John Hotz. "Metal Shark is the only company I found that offered what we needed," said Sheriff Beam. "With John being a resident of my county, we stopped looking. The rest was getting our county commission on board, which was easy with the leadership of Bud Cesena, a retired LEO. Everyone has had horrible tales during 2020 and 2021 with COVID causing shortages of everything under the sun. Through it all, John Hotz and Metal Shark came through with a blue-ribbon performance."
"This boat is special to me since it will be used in my hometown and I'm proud to see my company service our community in such a professional manner," said John Hotz. "I know that this boat will be put to good use by the Sheriff and the professionals in his department, and I trust it will provide valuable service protecting our community for many years to come."
Metal Shark is a diversified shipbuilder specializing in the design and construction of welded aluminum and steel vessels from 16' to over 300' for defense, law enforcement, and commercial operators. Key customers include the United States Coast Guard, Navy, Air Force, Army, foreign militaries, law enforcement agencies, fire departments, passenger vessel operators, pilot associations, towboat operators, and other clients worldwide. With three fully self-contained shipbuilding facilities in Alabama and Louisiana USA plus a dedicated engineering facility in Croatia, Metal Shark's 500+ employees produce over 200 vessels per year with a proud and proven track record of high quality, on time deliveries.