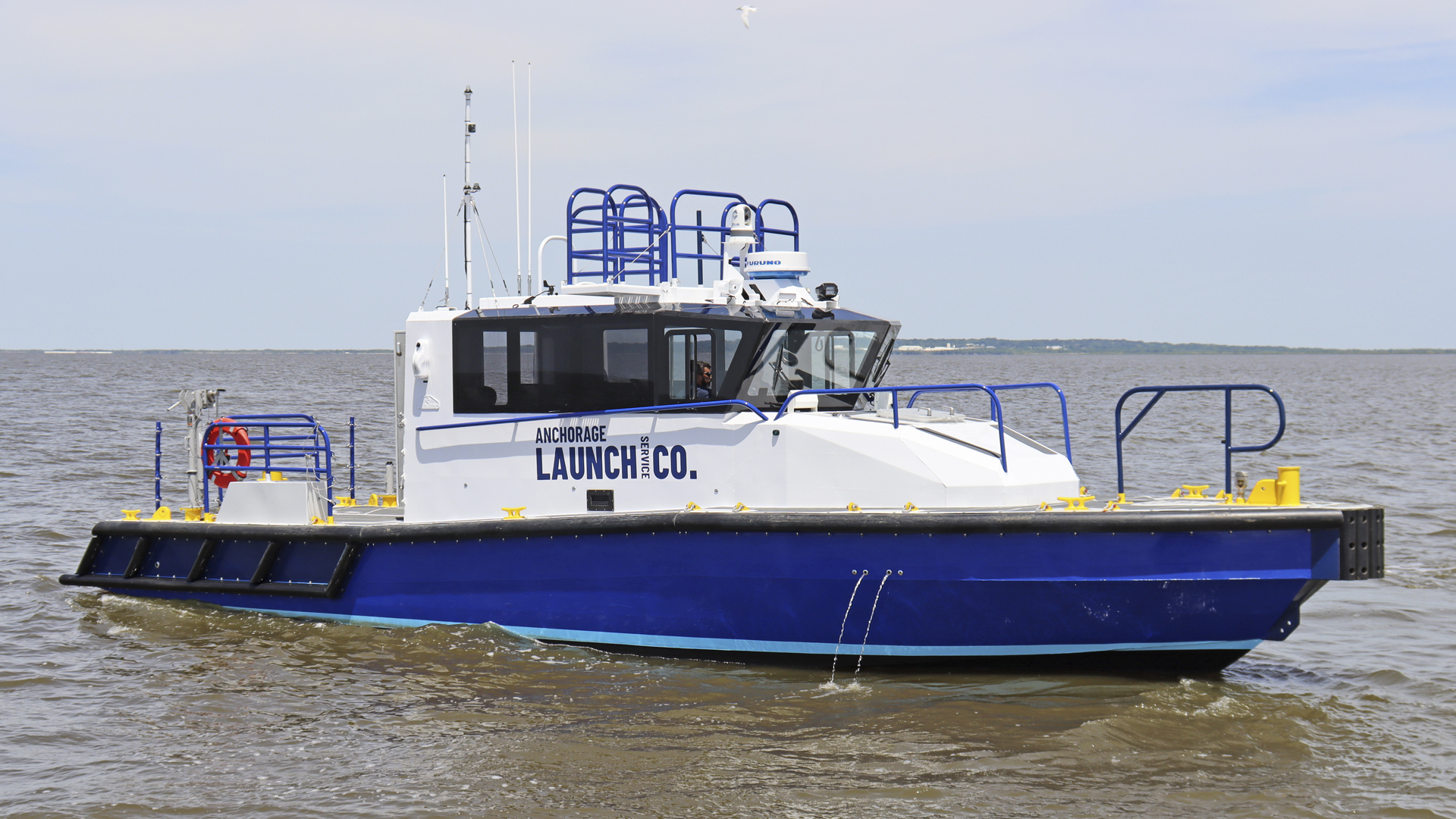 February 1st, 2023: Metal Shark Delivers 45 Defiant Crew Boat to Anchorage Launch
 Jeanerette, LA – February 1st, 2023: Boat builder Metal Shark recently delivered a welded-aluminum 45 Defiant crew boat to Anchorage Launch Services, an Oregon-based operator providing launch, line, pilotage, and cargo services to vessels on the Columbia and Willamette Rivers.
Designed in-house by the Metal Shark engineering team and built at the company's Jeanerette, Louisiana production facility, the 47' x 12' twin-diesel waterjet-powered "Triumph VII" is now in service.
"Our captains, crew, and passengers have all been very impressed with the capabilities of our new vessel," said Alex Scott, COO of Anchorage Launch. "With an extra emphasis on safety, performance, and passenger accommodations, it is clear that Metal Shark paid close attention to the details. The bar has been raised, and our local market is busy taking notes."
The Metal Shark 45 Defiant pairs a proven hull form with a modern, crew-friendly, mission-optimized arrangement. Built for Anchorage Launch in a bespoke crew boat / pilot boat configuration, the vessel features flat, non-skid decks that run from bow to stern to facilitate quick and secure crew and passenger movement around the vessel. A rugged fendering system absorbs impacts, a bow push knee adds utility, and an integrated swim platform with dive ladder and removable aft-deck davit aid in dive and rescue operations. Safety rails and grab handles are carefully placed throughout the craft, and a rooftop boarding platform has been configured to suit the client's requirements.
The Triumph VII features an innovative pilothouse delivering best-in-class visibility. The use of Metal Shark's signature "pillarless glass" with reverse-raked windshield significantly reduces blind spots compared to the industry's legacy pilothouse designs, which generally feature smaller, framed windows. A panoramic skylight array provides an unobstructed upwards view while operating alongside ships during crew or supply transfer.
The vessel's spacious climate-controlled cabin has been appointed with UES G-Force high-backed seating for eight, accommodating a two-person crew plus six passengers in contoured, reclining comfort. A full electronics suite includes multiple Furuno multifunction displays with integrated GPS, radar, depth sounder, a FLIR thermal imaging system, and iCOM VHF radios.
Belowdecks crew accommodations include an enclosed head compartment with fresh water sink, a dinette, and galley with compact refrigerator and microwave. Acoustic insulation and flooring are employed throughout the vessel to reduce noise and vibration.
To meet the client's performance requirements, Metal Shark equipped the Triumph VII with twin 705-horsepower Cummins QSM11 marine diesel inboard engines mated to Hamilton HJ-364 waterjets via Twin Disc gears. This combination delivers a cruise speed in the 30-knot range and a top speed approaching 40 knots. A 500-gallon fuel capacity allows for a cruise speed range in excess of 300 nautical miles. Electrical current is supplied via a 9 kW Kohler diesel generator.
"The team at Anchorage selected Metal Shark over the many options available to them in the Pacific Northwest based on our reputation and in-house engineering capabilities," said Metal Shark's Vice President of Commercial Sales, Carl Wegener. "From start to finish, the program was a huge success. The Anchorage team was great to work with and we hit all their mission goals, allowing them to provide high-speed crew transfers, handle deliveries to ships on the Columbia River, and to provide a safe transfer for the River Pilots."
"The introduction of the M/V "Triumph VII has been a game changer," added Mr. Scott. "Metal Shark has done a great job of putting together a piece of equipment that is truly second to none."
Metal Shark is a diversified boat builder specializing in the design and construction of welded aluminum and steel vessels from 16' to over 300' for defense, law enforcement, and commercial operators. Key customers include the United States Navy, Marine Corps, Coast Guard, Air Force, Army, foreign militaries, law enforcement agencies, fire departments, passenger vessel operators, pilot associations, towboat operators, and other clients worldwide. With three fully self-contained shipbuilding facilities in Alabama and Louisiana USA plus a dedicated engineering facility in Croatia, Metal Shark's 500+ employees produce over 200 vessels per year with a proud and proven track record of high quality, on-time deliveries. Metal Shark is actively recruiting at all three of its USA production facilities. To begin your career with Metal Shark visit www.metalsharkboats.com/careers.