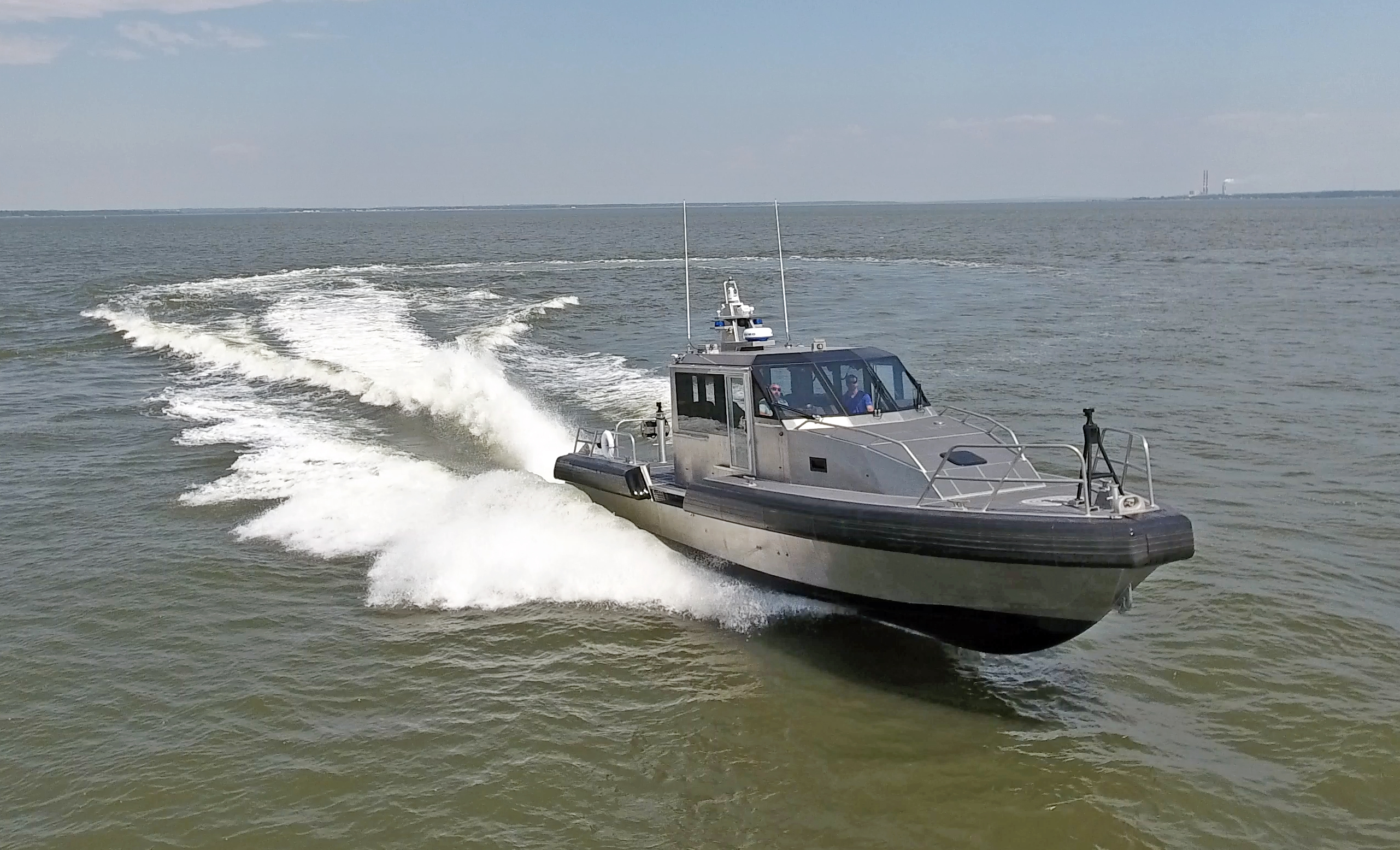 June 8, 2016: Metal Shark Shows Off Three Defiant Models at MACC
Jeanerette, LA – June 8, 2016: The Multi Agency Craft Conference (MACC) kicked off today at the U.S. Coast Guard Yard in Baltimore, MD, and Metal Shark was on hand with an impressive array of its Defiant-class monohull pilothouse vessels in patrol boat configurations.
The company showcased a new 45' Defiant powered by twin Cat Diesel C9 engines and Hamilton water jets, a 38' Defiant powered by twin Cummins Diesel QSB 6.7 engines and Hamilton water jets, and a 29' Defiant powered by twin 225 HP Yamaha outboards.
The 45' and 38' Defiant vessels were built for foreign military sales (FMS) cases, while the 29 Defiant was a Response Boat – Small (RBS) built for the United States Coast Guard.
"While we continue to expand into new markets, our government business is still our primary focus," explained Metal Shark's president, Chris Allard. "MACC provides us with a valuable opportunity to spend time with some of our largest and most influential clients and to showcase our latest technology."
The Multi-Agency Craft Conference (MACC) is an open forum for the exchange of operational and technical information on small boats and craft between Government agencies and the maritime community. Information on new technologies and new product offerings as well as information on Army and Navy service craft, Navy and Coast Guard patrol boats, Navy and USMC expeditionary craft, and Naval Special Warfare craft are highlighted in chaired technical presentations, vendor and agency displays, and in-water demonstrations.
Established in 1986,Gravois Aluminum Boats LLC, and its government/commercial boat entity Metal Shark Boats are leading suppliers of custom boats for defense, law enforcement, and commercial entities. Key customers include the United States Coast Guard, Navy, Air Force, Army, foreign militaries, port operators and pilot associations, fire departments, and commercial entities worldwide. From its two fully self-contained facilities in South Louisiana, Metal Shark produces a wide range of custom monohull and catamaran patrol boats, fireboats, pilot boats, passenger vessels, and other specialty vessels up to 250'. Visit the company's website at www.metalsharkboats.com.