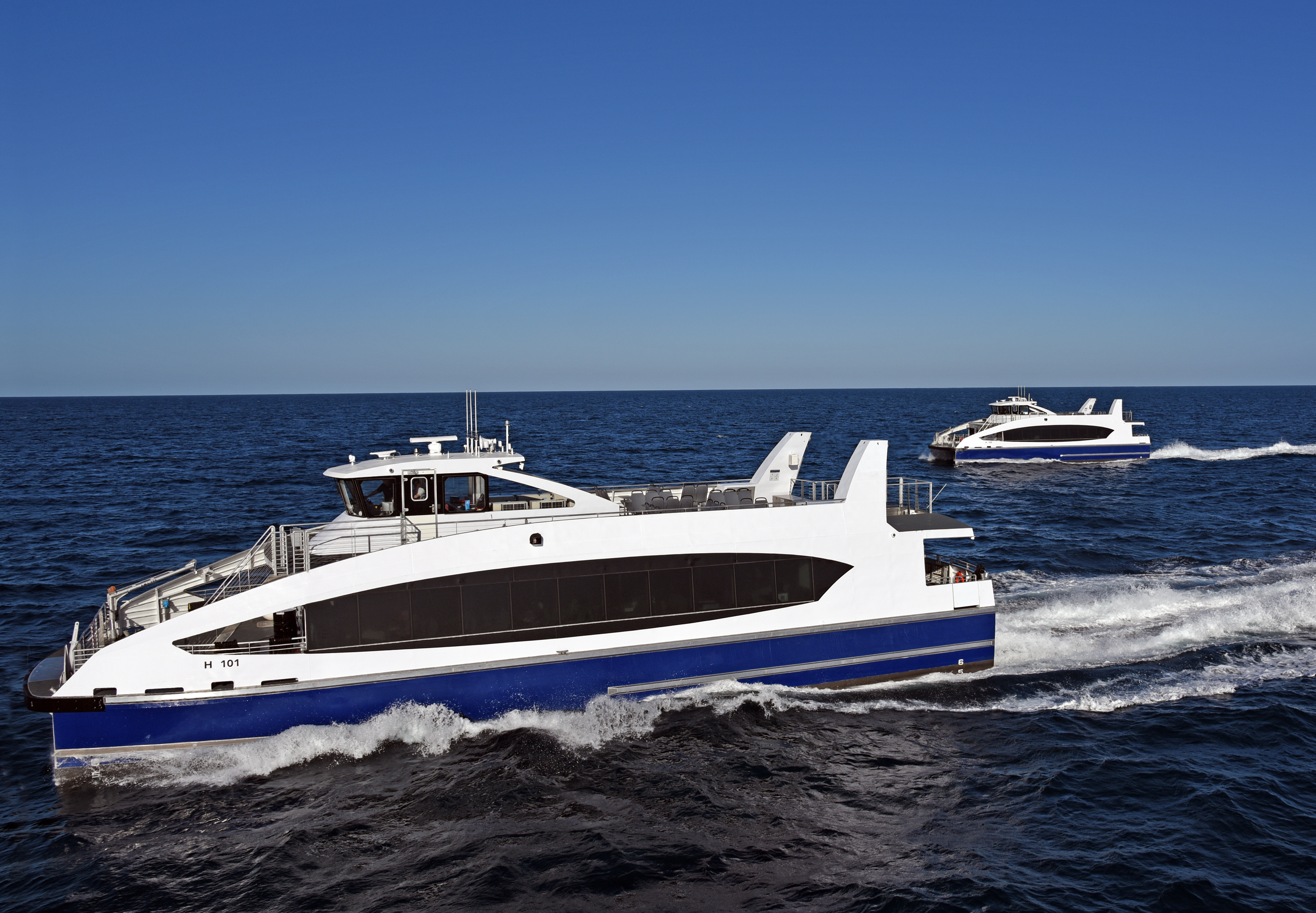 April 12, 2017: Metal Shark Delivers First Two NYC Ferries
Jeanerette, LA – April 12, 2017: The first two passenger vessels built by Louisiana-based shipbuilder Metal Shark for New York's new NYC Ferry have been completed and are now making their way to New York.
Late last week at Metal Shark's Franklin, Louisiana shipyard, the Incat Crowther-designed, 149-passenger, USCG Subchapter T passenger ferries were handed off to crews from HNY Ferry Fleet LLC (a Hornblower company), operator of the new passenger vessel service. Both of the Metal Shark-built ferries are currently running in tandem, making their way northward in the Atlantic after running the Gulf of Mexico coastline and rounding Key West.
The boats are expected to arrive in New York within the next few days.
"We produced these first two ferries from start to finish in less than nine months, which is a feat that was deemed impossible by many," said Metal Shark CEO Chris Allard. "However, we were confident in our team and our ability to make it happen."
"From start to finish we've enjoyed excellent communication and cooperation between Incat Crowther, our own naval architects and project managers, and Hornblower," said Carl Wegener, Metal Shark's director of commercial sales. "So much effort went into the construction of these boats. It's been an honor to build them and send them to New York, where they'll become a valuable part of the city's transit infrastructure for years to come."
About Metal Shark
Established in 1986, Gravois Aluminum Boats LLC, and its government/commercial boat entity Metal Shark are leading suppliers of custom boats for defense, law enforcement, and commercial entities. Key customers include the United States Coast Guard, Navy, Air Force, Army, foreign militaries, law enforcement agencies, passenger vessel operators, pilot associations, fire departments, and other operators worldwide. From its two fully self-contained facilities in South Louisiana, Metal Shark produces a wide range of custom monohull and catamaran vessels up to 250'. www.metalsharkboats.com.
About Hornblower Co.
Hornblower Co. is the parent company of Hornblower Cruises & Events, Alcatraz Cruises, Statue Cruises, Hornblower Niagara Cruises, Liberty Landing Ferry and HMS Global Maritime. Hornblower is a leader in maritime service and hospitality for over 35 years with over 100 vessels in its fleet. Hornblower's newest operation, NYC Ferry by Hornblower is the newest way for New Yorkers and visitors to "Work Live and Play" when the system launches in Summer 2017.  Expected to service over 4.6 million passenger trips per year, NYC Ferry will provide critical transportation links for areas currently underserved by transit and connect them to job centers, tech hubs and schools in New York City. | www.hornblower.com | www.ferry.nyc